JB Pharma celebrates 1 year to its identity launch, Delivers over 22 per cent growth for the fiscal
Jun 06, 2023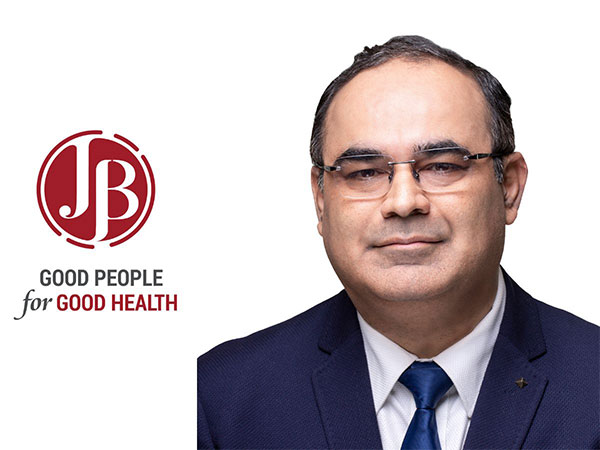 PNN
Mumbai (Maharashtra) [India], June 6: JB Pharma, the fastest growing company in the Indian Pharmaceutical Market, today marks the one-year anniversary of the launch of their identity. Good People for Good Health is a testament of the brands unwavering commitment to spreading good health globally. Crossing the milestone, the company highlights their- journey of contributions made towards Indian healthcare - of supporting healthcare providers and enriching patients' lives globally. This is reflected in three key elements which are - their people, products and financial results.
Sharing his views on the occasion, Nikhil Chopra, CEO & Whole-Time Director, JB Pharma said "While we touch new horizons, we are rooted in our values of simplicity, reliability and agility that define us. We will continue to remain simple in our actions, reliable in our relationships and agile in our approach towards effecting changing scenarios in the healthcare industry."
A year of consistent outperformance:
The organisation also announced their Q4FY23 financial results. The Company recorded revenue of INR 3,149 crores registering a growth of 30%. Operating EBITDA (Earnings Before Interest Depreciation and Taxes) registered growth of 26% to INR 765 crores and Profit after Tax was INR 410 crores recording a growth of 6%. JB maintained its upward momentum with quarterly revenues at INR 762 crores recording a 22% increase, closing the year in excess of INR 3000 crores, with FY23 recording a growth of 30% to INR 3149 crores.
With a presence in 6 lakhs+ pharmacies, 40+ regulated markets, JB Pharma takes an all-encompassing approach to healthcare. Through a wide range of products and dosage forms, it has made a mark in 20+ progressive portfolios such as pediatrics, cardiology, metabolics, respiratory, anti-infectives, gastroenterology, urology, nephrology and gynaecology. It is the fastest growing pharmaceutical company in India Pharma Market for the 2nd consecutive financial year (IQVIA MAT Mar'23).
Robust performance in India business:
The domestic formulations business clocked revenue of INR 380 crores recording a growth of 29% for the quarter and was at INR 1640 crores for FY23 with a growth of 38%. Rantac, Cilacar, Cilacar-T, Metrogyl, Nicardia, Azmarda and Sporlac drove up the ranks to feature among the top 300 Indian Pharmaceutical Brands. JB Pharma ranks among the top 10 players in cardiology segment and among the top 15 by prescription.
JB Pharma develops innovative products under big brands like Rantac OD, RD, Ranraft, Metrogyl ER, Metrogyl DG Gel, Nicardia XL, Sporlac EVA, Sporlac GG etc. to cater to a wide patient profile in respective therapeutic categories. With Sporlac, JB Pharma is the fastest growing among the top 3 brands in the probiotics segment in India.


Strong progress in CDMO:
The international business performed well and grew at 16% to INR 382 crores in the quarter and 22% to INR 1509 crores for the financial year. CDMO (Contract Development & Manufacturing Organisation) business closed the year with INR 400+ crores revenue maintaining its INR 100 crores quarterly revenue run rate. In CDMO, the organisation is the 3rd largest manufacturer of herbal and medicated lozenges in the world. With 70+ products in different formats, flavours, shapes and sizes even herbal & medicated, lozenges cater to almost 7% of the world's total population.
Continued focus on people:
Building a well-rounded and forward-looking organisation, they introduced 50+ people-centric initiatives which inculcate leaning & development while also maintaining a work-life balance. The organisation also launched an in-house JBCares app - a 360-degree wellness initiative to foster work-life balance and increase productivity. LEAP - An innovative and forward-looking training and excellence program to develop next gen leadership for JB Pharma was introduced. Women representation at JB grew at 20.6% from 2019-20 to cultivate a supportive culture for women that promotes equality, health, well-being and trust.
Environment at the heart of operations:
JB Pharma's focus on their sustainability goals has also propelled the team to significantly reduce emissions and work towards their sustainability goals for FY24. They released their maiden sustainability report FY22 last year.
Founded in 1976, the company has extended its reach beyond India and now operates in Russia and South Africa as well. JB Pharma's success is reflected in its six brands among the top 300 IPM brands in India, with much of its revenue coming from India. Additionally, JB Pharma exports its finished formulations to over 40 countries, including the United States.
The company exports its finished formulations to 40+ countries worldwide, including the United States. JB is a leader in manufacturing medicated lozenges and ranks among the top five manufacturers globally in the field of medicated and herbal lozenges. The company has seven state-of-the-art manufacturing facilities in India, including a dedicated manufacturing facility for lozenges, all of which are certified by leading regulators worldwide.
JB Pharma has established itself among the top 25 Indian Pharma Companies and consistently outperforms the market, quarter on quarter.
Website:

LinkedIn:

Facebook:

For more information, please contact:
Media Contact Investor Contact
Dr Swadeep Srivastava Sidharth Ragnekar / Shruti Joshi Heal Health PR CDR India
Tel: +91 93100 87601 Tel: +91-98335 57572
Email:
Email:
/

(Disclaimer: The above press release has been provided by PNN. ANI will not be responsible in any way for the content of the same)